LEATHER COLUMN MAY 2007
QUEENS ON A QUEEN

For the first time ever RSVP Cruises has reserved a large block on the Queen Mary 2 leaving New York on May 29 for Southampton (for London). This is the most elegant and the largest cruise ship ever built.
What's even more interesting for this column is that there will be a leather/fetish party on board, the first time that has ever been done on a cruise that I know about. The party is being hosted by the owners of The Barracks Bar in Palm Springs, John Rentsch and Carl Levine and I think it's a great feather in their leather caps that they have succeeded in persuading the powers that be to go for this. The cruise is right now offering substantial discounts from the regular price, to fill any vacant cabins (and there are quite a few). So all those of you who haven't already booked for IML might want to consider this. If you are interested contact John@thebarracksbarps.com

SOUTHERN CALIFORNIA SIR AND BOY CONTEST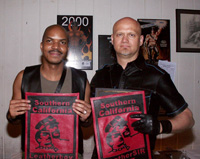 2007 Winners: Leather boy TC and Leather Sir Master Tom
The contest was produced on the weekend of April 20/22 at The Barracks Bar in Palm Springs by Dale Breunig, International Sir 2002, who seems to be the only person in California determined to keep this contest and these titles alive. Dale works very hard on this concept but out of 25 million people living in Southern California, year after year there are only two contestants for the two titles, and sometimes no contestant for the Sir title. What is wrong with these people? Is there no one in L.A. or San Diego or Long Beach willing to step up to the plate and enter? So it would seem. Or perhaps there's no one in those cities who is willing to do a little work and organize and present a contest. With all the talent we have in the community that's a real surprise. Maybe the lack of the publicity that we had in the past when Drummer magazine did the promotion is a major consideration for some potential contest promoters. I wonder if anyone has approached Instigator Magazine about possibly promoting these events.
The weekend began on Friday evening with a Contestant Meet and Greet at The Barracks; a big black boot contest and clipper night ensured a good crowd. The MC for the occasion was Mr. Barracks Leather 2005 Steve Crawford, who appeared in that persona. His other persona, Snatch, was nowhere to be seen that night. Steve introduced the judges and contestants and thanked the bar and its employees for the effort they put into these occasions.
There was a pre-judging on Saturday morning followed by a private judges' dinner with the producer Dale.
The contest on Saturday began at 10pm, and the MC was a curiously lack-luster Rick Jammer, a local DVD porn personality who is also co-owner of a fine leather shop in town called "Gear." I was told later that Rick wasn't feeling well that night, which accounted for his less than exuberant performance. Last time he MC'd he was just fine and full of energy, and he has our best wishes for a speedy recovery from what ailed him on this occasion.
The boy contestant was T.C., so called because his full name is so difficult to believe as well as to pronounce. TC is a very regular patron of the bar and the current President of the Palm Springs boys of Leather, so there was no doubt about his commitment to the community. The candidate for the Master title was introduced only as Master Tom, a new face to almost all there. The contestants were put through the usual paces: a brief speech, a fantasy, and a question and answer session. Judges were Luc Benech, (Mr. Tool Shed leather 2007), Othello Cuena, (President of the L.A. boys of Leather), International Sir and boy 2006 Master Kalan and Marshall and finally Rick Yarborough, who is not only the stepping down Southern California boy but also the Barracks resident boot black.
The winners were announced shortly after midnight, as was the winner of a raffle, the first prize of which was two weekend packages to the International Sir and boy contest in Dallas later this year. There was a silent auction, supervised by Henry Jordan, former president and founder of the Palm Springs boys of Leather, to raise money for the winners' travel fund. TC's fantasy included the 1992 Mr. Palm Springs Leather Don Mentinck and the 2003 International Sir Mike Russell, who supports every major event in Palm Springs. Stepping in to substitute as bootblack for the evening (because the regular bootblack was a judge of the contest) was Alan Tunstall, International Bootblack 2004, who often operates in that capacity at The Barracks.
There was a victory beer bust at the Barracks on Sunday afternoon which brought out even more people than the usual who attend this event every weekend. It was packed.
The following weekend, April 27-29 saw the Avatar Desert IV event taking place.
This event, produced by the famous Los Angeles organization, was as its name indicated, the fourth annual visit by these knowledgeable and enthusiastic people. The meet and greet cocktail party took place at the Cedar Creek Inn (see photos). The restaurant also hosts the PSLOD annual event most years. The front part of the restaurant is full of the regular patrons, mostly straight snowbird vacationers in their shorts and flowered shirts and the leathermen had to walk the gantlet through that part of the restaurant to curious stares on their way to the cocktail party and the dinner which followed. No experience for a closeted leatherman to be sure, but no such novices were in this crowd.
Following the dinner most of the group descended on the ToolShed for the after dinner beer bust, while a few others who happened to be going out of the downtown made their way to The Barracks. There they found the Palm Springs Division of the Boots and Breeches Corps having their monthly beer bust and the attraction that night was a Boots and Jocks contest. The previous year there were thirteen contestants but this year because of all the other things that were going on that night there were only three. The contest was MCd by Mr. Palm Springs Leather (and Mr. Barracks Leather) 2002 Don Mentink, a member of the B&B. The assembled crowd enjoyed the fun and games.
Saturday afternoon saw a well-attended brunch barbecue at Helios, the host resort for the weekend and after a nap or whatever, many people made their way to The Barracks which hosted what was promoted by Avatar as cruise night. The Barracks, was quieter than usual because at ten p.m. most people at the host hotel, in the northern end of Palm Springs, rather than going all the way to Cathedral City to the Barracks and back again to Palm Springs, just made their way to Club Oasis in downtown Palm Springs for the leather Fetish Ball, presented and organized by Eric Mitchell, Mr. Palm Springs Leather 2007 (and also Mr. Oasis leather). Naturally enough, he presented his first major event in his home bar. Eric has been very supportive of other events in town and out of town for that matter. The Fetish Ball was a great success and the crowd danced till 4am. Eric is to be congratulated and wished well at IML.
The Sunday afternoon beer bust at the Barracks, naturally enough, was even more packed than usual as the Avatar attendees joined the regulars and the usual L.A. weekend visitors for a farewell party with two, count 'em, two bootblacks in attendance. Both Rick and Alan were busy at opposite ends of the huge recently-extended patio.
COMING UP
THE 29TH ANNUAL INTERNATIONAL MR. LEATHER CONTEST
WILL BE HELD MAY 24 - 28, 2007 IN CHICAGO

Indicative of the popularity of this event, the host hotel, the Palmer House Hilton, is sold out – Overflow rooms are available at The Chicago Hilton, 720 S. Michigan Ave. For reservations, call (312) 922-440 or go to imrl.com and click on the "hotel reservations" link on the home page. Room rates start at $164/night.

The world's hottest leathermen will once again come together to compete for the title of International Mr. Leather, Thursday, May 24 through Monday, May 28, 2007 (Memorial Day Weekend) in Chicago. IML is pleased to announce a return engagement at The Legendary Chicago Theatre, 175 N. State Street. Actor, stand-up comedian and musician Hal Sparks has just signed as the headline entertainment at this year's Contest.

IML 2007 Weekend Event Packages start at $150 with special upgraded seating packages available. All packages include: admission to the International Mr. Leather 2007 competition, admission to all other official IML events (Opening Ceremonies, Physique Competition, Salute! - Closing Ceremonies, IML Victory Celebration Party and the Black and Blue Ball), free admission to the Leather Market, free shuttle bus service, an official IML 2007 t-shirt plus special promotional offers and gifts.

IML Weekend Packages can be purchased online at www.imrl.com or at www.boxofficetickets.com; by calling (800) 494-TIXS (Intl. (503) 245-0288); or via facsimile at (800) FAX-TIXS (Intl. (503) 245-0290). Weekend Packages should be picked up at The Palmer House Hilton beginning Thursday, May 24 in the afternoon through Sunday, May 27. Cancellations are subject to a $25 processing fee. There will be no cancellations after April 30th, 2007. Special seating accommodations for persons requiring wheelchair access or those who are hearing impaired can be requested through Box Office Tickets.

International Mr. Leather 2007 will include the following main events:

29th Annual International Mr. Leather Competition presented by Miller Beer
Sunday, May 27 at 5 p.m. (doors open at 4 p.m.)
The Chicago Theatre, 175 N. State Street, Chicago

15th Annual International Mr. Bootblack Competition presented by Bootwerks
Friday, May 25 through Sunday, May 27
The Palmer House Hilton, Leather Market
Other official IML weekend events include:

The Leather Market – Celebrating its 25th Year!
The world's best collection of leather and fetish vendors.
Friday, May 25 from 12 – 7 p.m., Saturday, May 26 from 11 a.m. – 7 p.m., Sunday, May 27 from 11 a.m. - 5 p.m. and Monday, May 28 from 11 a.m. – 4 p.m. The Palmer House Hilton

IML Opening Ceremonies presented by Recon
The introduction of contestants and judges, drawing for contestant numbers and unveiling of
the IML 2007 Flag.
Thursday, May 24 at 9 p.m. (doors open at 8 p.m.)
The Palmer House Hilton, Grand Ballroom

Pecs & Personality (Physique Competition) presented by Interactive Male
IML contestants are judged on their appearance and stage presence.
Saturday, May 26 at 9 p.m. (doors open at 8 p.m.)
The Palmer House Hilton, Grand Ballroom

Salute! - IML Closing Ceremonies presented by Leatherpost.com
Introduction of 2007 winners, "parade of colors" featuring leather clubs and organizations from around the globe and signing of the IML Flag.
Sunday, May 27 at 11 p.m. (doors open at 10 p.m.)
The Palmer House Hilton, Grand Ballroom

IML Victory Celebration Party presented by Leatherpost.com
Music by DJ Eddie Baez.
Sunday, May 27 after the IML Contest until 4 a.m.
House of Blues, 329 N. Dearborn Street, Chicago

Black and Blue Ball – presented by Recon
The traditional IML final blowout celebration. Music by DJ Matthew Harvat.
Monday, May 28 from 8 p.m. – 4 a.m.
Excalibur, 632 N. Dearborn Street, Chicago

Tickets to individual IML 2007 events are available at www.boxofficetickets.com and will be sold at The Palmer House Hilton throughout IML Weekend. Single ticket prices are as follows: International Mr. Leather Competition ($60), IML Opening Ceremonies ($30), Pecs & Personality ($30), Salute! – Closing Ceremonies ($10) and Black and Blue Ball ($30). Please note: Single tickets to the IML Victory Celebration Party ($50) are only available through the House of Blues, by calling (312) 923-2000.

International Mr. Leather contestants are judged on a variety of criteria including community involvement, speech, presentation and overall presence. The winner of the IML 2007 Contest will receive a prize package consisting of donations from businesses and organizations supporting the leather community. Complete contestant information, including contestant applications, can be found at www.imrl.com.

The 2007 International Mr. Leather Judges are: Bo Ladashevska, Matt Foreman, Master Jim Glass, Scott Bloom, Ted Lassen, Gil Kessler, Glenda Ryder, Joe Reusch, and Matthew Johnson. The Tally Masters are: Blackkat and Jim Kiley-Zufelt.

Bo Ladashevska, Mr. Leather Montreal 2006, was named International Mr. Leather 2006, winning over a field of 52 contestants from five countries: Belgium, Canada, Germany, Switzerland and the United States. Larry Golubski, Mr. Long Beach Leather 2005, was named 1st Runner-Up. Philippe Lepine, Mr. Fetish Switzerland 2006-2007, was named 2nd Runner-Up.

The 15th Annual International Mr. Bootblack Competition will be held Friday, May 25 through Sunday, May 27 in the Leather Market at The Palmer House Hilton. The winner will be selected by the vote of IML Weekend Package-Holders. Each paid weekend package includes a ballot for the competition that can be cast for the bootblack of the holder's choice. The winner will be announced at the International Mr. Leather Competition on Sunday, May 27. Benjamin Palmer, sponsored by PumpJack Pub and Priape Vancouver, was awarded International Mr. Bootblack 2006.

The Leather Market, located at The Palmer House Hilton, features the world's biggest collection of leather and fetish vendors. This year the Leather Market celebrates its 25th Anniversary. More than 15,000 people visited the Market in 2006. Admission to the Leather Market is included with all Weekend Packages. For all other visitors, a suggested donation of $3.00 will benefit The Leather Archives and Museum in Chicago. The $3.00 Day Pass can be purchased at The Palmer House Hilton throughout the weekend. A complete list of vendors, as well as vendor applications can be found at www.imrl.com.

Entertainer Hal Sparks will bring his many talents to The International Mr. Leather Contest at The Chicago Theatre on Sunday, May 27. Best known for his portrayal as Michael on the groundbreaking Showtime series "Queer as Folk," Sparks has also made a name for himself in both the music and stand-up worlds. For more information about Sparks, as well as details about his upcoming CD release, visit www.halsparks.com.

About 400 gay leathermen gathered in Chicago in 1979 for the first International Mr. Leather contest. Today, the event has grown to be an annual tradition for the leather and fetish community – drawing contestants and attendees from around the globe. Once an event for "hardcore" leathermen, IML has expanded in recent years to include a more diverse crowd – from the experienced to the curious. Last year's event drew more than 15,000 guests from around the world.

American Airlines is the official airline of IML. For fare discounts, travelers should contact American Airlines at (800) 433-1790 and identify themselves as IML attendees with Star File #A7757AP.

For more information on International Mr. Leather 2007 and to get updated event information, log on to the official IML website, www.imrl.com.


For those who are not completely exhausted after the IML weekend, head to San Francisco for Sandy "Mama" Reinhardt's birthday party. Mama will only turn 65 once, then she says it's back to starting at 25 again. Mama on social security – can you imagine !! Needless to say, like anything associated with Mama, it's a fund raise, this time for Project Open Hand. Naturally there'll be a beer bust, entertainment, raffle prizes, food and more. Attendees are requested to bring a big bag of canned food in lieu of a gift, to donate to Project Open hand. This takes place on Sunday June 3 at 444 Castro Street (formerly known as Daddy's Bar).
Also in SF, David Morgan continues to present the weekly Get IN Gear events.
Every Wednesday at the Lone Star Saloon, 1354 Harrison Street between 9th & 10th from 8pm to Midnight. Bike parking in front…Cigar/smoking patio in the back…If you get your ass in gear you get some drink specials…
Check David's web site for more upcoming Get in Gear events.
www.MenInGear.com
Back in Palm Springs, at The Tool Shed, Friday May 4 is the monthly beer bust of the Palm Springs Leather Order of the desert, beginning at 10pm. Saturday, of course, is Cinco de Mayo which will be celebrated at both leather bars and at many other bars in town including Sidewinders. Saturday, May 12 is Fetish Night at the Toolshed and upcoming "specials" are Bare Chest Night, May 19th, and on Thursday May 31st a "Once In A Blue Moon Celebration."