LEATHER COLUMN FEB 2007
YOU MAY HAVE READ THE FIRST PART OF THIS COLUMN LAST MONTH, BUT PLEASE SKIM DOWN, THERE'S LOTS OF NEW STUFF ADDED, ESPECIALLY IN THE "COMING UP" SECTION.
LAST MONTH I WROTE:
Once again I have to apologize for the delay in bringing my column up to date. Try being a church organist over Christmas! On top of that, having European guests for a few weeks, people who are afraid to drive in Southern California. I had to be the chauffeur and devise all kinds of interesting places to take them, all of which took me away from my usual leather activities. Anyway, here's what's new.
Pantheon of Leather nominations are all in and the judging by the panel has taken place so all that remains is for the awards to be announced, which will take place as usual in Chicago on the weekend of February 16 – 19. It's too cold then for me. However, I think there's a possibility that Pantheon may be coming back to the West Coast next year, along with the Mr. and Ms. Olympus contest. Let's hope so, anyway. For this year, is you want to attend, or need info, go to http://www.theleatherjournal.com/pantheon.htm
The Talk Magazine leather column which I started continues with Avatar member Dave Murdock at the helm. He's covering mostly the same ground that I covered when I wrote for the magazine, in fact he even writes this week on the Mr. Palm Springs Leather contest and Leather Pride weekend and makes a sly dig at my reportage of that event. But I'm used to that, a lot of leather columnists take digs at others, - remember the long-standing feud between Dave Rhodes and Mr. Marcus? Fortunately that was put to rest some years ago and all now appears to be well. Marcus himself also spent a lot of energy denigrating my writing years ago but that seems to be over too, in fact I even got a Christmas card from him this year. Who would have thought that ten years or so ago?
As for Palm Springs Leather Pride, that was almost three months ago, however, Dave spends some time defending the PS Contest in his current column and refers to grumblings about the results so there must have been some dissatisfied people. He also makes a point of defending the integrity of the judges and tally masters. I don't know who's been grumbling, but people should realize that what happens on the actual night of the contest is only the half of it. All contestants must experience a one-on-one with the judges prior to the contest and that's where the decisions are usually made, in my experience. I've judged scores of contests and the contestants at the pre-judging get asked all kinds of questions that would not be asked in public and I know many of my decisions have been made based on the responses in those private judges-only sessions. Someone who appears on the actual night of the contest to be an obvious first choice could have revealed information to the judges privately that served to disqualify him from that spot on the winner's rostrum. One of the contestants in the recent contest is known to have appeared in bare-backing videos. That's a no-no to many judges and they could have in mind that if that contestant won and went on to compete at IML, because that would also be a no-no there, especially since Chuck Renslow has been vocal about his opposition to the practice. However, I was recently assured by one of the judges that that particular fact was NOT taken into consideration at the contest.
Another contestant who was popular with the crowd on the night had only been living locally for a month. Contest winners really rely on their support base and local contacts to help them put on events and so on and somebody who's only been here a month would not have such contacts and would find it difficult to succeed with his title.
There were also contestants this year from non-leather bars, which didn't make a lot of sense to many people. Hunter's is a twinkie disco bar and there's not a stitch of leather in the place apart from people's belts and shoes and as for a leather attitude or lifestyle – forget it. Most people could not believe that that bar put on a leather contest. It was in fact very poorly supported and greeted with some hostility by the regular patrons and naturally enough, their winner didn't impress anyone as being a potential Mr. Palm Springs Leather. Oasis is another bar that is a dance venue. To be sure, the owners are reputed to be leather men, but it's not a bar where leather events have ever been held apart from the PS contest and the only reason that that event is held there is that it's the only bar big enough to host it. Eric Mitchell does have some plans under way, however, for a Fetish Ball at Oasis, probably during the Avatar Weekend in the Desert. Eric has also ably represented Palm Springs at M.A.L. which is an important place for our titleholder to see and be seen and he turns up and supports other events also. He acted as MC for the Uniform contest at The Barracks recently when Rob Hathaway was sick and could not appear. For those who mention that he is not the usual overly-buffed Tom of Finland type, I should remind them that Jeff Tucker, IML 2003 wasn't one of those either but he turned out to be one of the best IMLS we've had. He was our MC here for the PS Leather Contest three years or so ago.
Sidewinders, while also not a leather bar per se has at least always been leather-friendly and now has a leather owner, the well-liked George Puddephatt and it made sense for that bar to have a contestant, but again, the winner was somebody who did not appear to have been previously well-known in the leather community. So people who were grumbling about the Palm Springs Leather Contest result should bear all the above in mind. The crowd favorites don't always win and there's often a valid reason that you may not know.
NOW LET ME ADD SOMETHING TO THE ABOVE
Dave Murdock clearly read the preceding paragraphs. I'm sure you will agree that my comments about him were kind; I referred to his sly dig at me in a good humored way and agreed with his comments about the grumblers concerning the Mr. Palm Springs Leather contest. I even made a point of going up to him at the PSLOD dinner and being very cordial and telling him that I agreed with his column. However, Murdock isn't content to take the high road and be cordial in return but he just had to get down in the gutter. He accuses me of mealy-mouthed backstabbing for what I wrote above. On what planet does this man live? By what standard could that paragraph above be considered back–stabbing? I have been in the leather community a lot longer that he has and have produced exponentially more events, as a result of which I am honored to have the respect of our community. I have always believed in taking the high road, even if it sometimes means being very honest and exposing the occasional jerk who does damage to our community, or drawing attention to the occasional title-holder who shirks his duties. This is done for the sake of the community, not out of personal pique. Unfortunately, Murdock comes into that jerk category. He's the one who does the backstabbing, aided and assisted by the small-minded editors of the magazine for which he writes, who, if they were doing their job, would have blue penciled those remarks out of respect for a former writer and out of respect for the community for which Murdock claims to write. His comments have no purpose other than to cause dissent. Unfortunately, sometimes big men have small minds. Now let's hope we can all get on with our lives and not have to put up with this nonsense any more. We have far more important things to do than read his petty comments.
WEST COAST RUBBER
The West Coast Rubber guys continue to be busy. and up front and out in public. The guys strolled down Hollywood Boulevard to the Hollywood and Vine complex recently in full rubber for a rubber dinner and movie. The tourists were suddenly taking more pictures of men in rubber than stars on the sidewalk. They went upstairs to the food court for dinner and wandered the entertainment complex shopping for leopard print rubber boots (Yes, they do make such a thing) and watching Kink Boy splash around in the fountain.
The latest James Bond Thriller "Casino Royale" was the main event inside Grauman's Chinese Theater. If you have not had a chance to see the movie, it is a must for all bondage fans. James Bond truly has balls of steel. The bondage and torture scene alone is worth the price of admission. After the movie was over the rubber party had to end, it was a work night. Unfortunately for Mr. West Coast Rubber 2005 Alan Stroik it took longer than expected to leave. Next time he will have to remember which level in the garage his car was parked on.
The rubber guys held their monthly bar night at The Barracks Bar on Friday Jan 19th and on the following night they were a noticeable presence in the Eagle, Los Angeles. Both the Barracks night and the Eagle event are dedicated to enjoying the hell out of rubber, latex and everything else shiny and geared up. Plus it's a big ole shine party with personal, hands-on service from two of the hottest rubber studs around. And as always they had giveaways and loads of pervy guys to share the fun. Get more details at www.westcoastrubber.com.
Coming Up
PANTHEON OF LEATHER
CHICAGO - FEBRUARY 2007
For information, go to The Leather Journal website, www.theleatherjournal.com

<![if !vml]>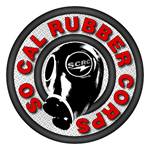 <![endif]>

The men of the So Cal Rubber Corps invite you to join them for their next Rubber Penetration of Los Angeles. An afternoon of class and trash! On Sunday February 18th, members of the rubber (and leather) community will gather at the Los Angeles County Museum of Art (LACMA) at 1:00pm. After that they'll hop in their cars and drive to Santa Monica for a 6:00pm trashy dinner at Hooters restaurant. They'll meet in front of the main entrance to LACMA at 1:00pm and leave for Hooters at 5:30.

Rubber Penetration events are for men and women rubber enthusiasts. They are open to anyone who wishes to attend in rubber, leather, lycra or other attire (street legal please) Address for LACMA is 5905 Wilshire. Address for Hooters is 321 Santa Monica. Additional info at SoCalRubberCorps.com

WEST COAST RUBBER WINTER WARM-UP. March 18-18 at Helios Resort (formerly La Posada East). Friday the 16th kicks off with a hosted cocktail meet and greet from 6 - 8 PM, sponsored by West Coast Rubber and The Barracks Bar. And then you're n your own for dinner–play–hot tub–pool–bondage-in-the-pool–bars. Who knows! Saturday, after a luxurious sleep-in, the day slides in to gear about noon-ish with their version of the Palm Springs Pool Party with a surprise guest to really heat it up. Add in the usual maniacal mayhem you pervs get up to, plus a man-sized BBQ lunch and you're set. Well, except for maybe a mystery vac rack ride under the beautiful Palm Springs sky

. Saturday night they'll so a rubber penetration of a local eatery followed by a quick gear change and double dipped penetration of The Barracks Bar. There's more planned for Sunday but they don't want you to peak too soon. <![if !vml]>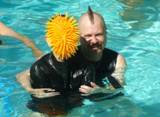 <![endif]>

Rooms at Helios start at just $130. Contact them directly at 1-877-435-4677 to book and be sure to mention WCR to get the rate. There's a two-night minimum but you'll want to stay the third night so you can hit the infamous Barracks Beverage Blast on Sunday. Plus it's St Patrick's Day weekend! Imagine how hot we're all going to look in nuthin' but green liquid latex? There's a food and beverage ticket available for a minimal $20 per person which gets you the BBQ and weekend beverages. You can pick up those tickets when you check in. Live in the area? Staying somewhere else? No problem. You can still pick up a ticket and hang with the gang all weekend at Helios. Book now so you can snag a room at Helios.

GET IN GEAR

David Morgan is still going from strength to strength with his "gear nights" in San Francisco; this time guys are encouraged to get away from the internet and put on their leathers and go out to meet real people. The next Gear nights are Friday Feb 23 and Saturday March 17 at The Eagle Tavern, 10pm to closing.

Bootblack on hand, coat check by SOMA Guardians…

Also Sunday March 25 at the Powerhouse, 6pm to 10pm, after the beer bust .

Studly Powerhouse Bartenders offering drink specials for those in gear…Bootblack Stud Richie Chameroy will work you and your boots over…Unicorn from SOMA Guardians will man the coatcheck, or hold onto whatever you want.

UPCOMING L.A. LEATHER CONTEST SEASON.

Still left to be held are the following contests:

February 24. Mr. Sanctuary Leather at the Eagle L.A. Bar

March 3. Mr. Sister Leather at The Eagle, L.A. Bar

March 10 Mr. Pistons Leather at Pistons Bar

March 17, Mr. Ashram West Leather at The Faultline Bar.

Winners of the above contests will compete at the Mr. L.A. Leather contest. Contestant applications for the above contests are available through each organization and/or bar.

Mr. Eagle L.A., Mr. Faultline, Mr. Oil Can Harry's, Mr. CSW Leather and Mr. Regiment have already been selected and will compete at Mr. Leather L.A. 2007.

March 31 – Mr. L.A. LEATHER 2007 CONTEST / SHOW

This event will be held at the Arartani Japan / America Theatre, 140 San Pedro ST., L.A. , between 2nd and 3rd Downtown L.A. in Little Tokyo.

Host Hotel is the Miyako Hotel. $89 a night – Single/Double Occupancy.

Reservations: 800-228-6596 or www.mikayoLA.com

For more info on the event go to www.MrLALeather.com

LAL 2007 Schedule:

March 25 -- Avatar Parking Lot Party "Salute to Leather" @ Faultline Bar, 3-8PM March 28 -- "Hell on Wheels III" Leather Roller Skating Party @ Moonlight Rollerway, Glendale

March 29 -- Roast & Toast of Bob Johnson, Mr. LA Leather 2006; Meet & Greet @ Eagle LA Bar

March 30 -- Southland Honors Awards @ Miyako Hotel, 7-10PM; Hard Tribe IV Dance Party

March 31 -- Leather Seminar Series @ Miyako Hotel; Mr. LA Leather 2007 Contest; Victory Party @ Faultline Bar; Warehouse Dance Party.

April 1 -- StreetFest @ Santa Monica Blvd. & Sunset, Silver Lake, 11am-8pm

The 7th Annual Breast Cancer Emergency Fund Dinner


will be on March 31st this year at The Swedish American Hall " Cafe Du Nord." Mama Sandy is looking for Silent Auction Donation items (and she's desperate). She says " Plz. look under your beds, closets ,walls etc. for art work or anything you would love to donate. Thank you so much for your support, it is appreciated. Details of the dinner: 7.00pm Cocktails, 8.00pm Dinner. $75 per person. Purchase your ticket and menu order on line @ www.Frantix.net

International Ms Leather (IMsL)
is coming home to San Francisco, California. Join them April 5th - 8th as incoming Executive Producer Glenda Rider takes IMsL on its wildest ride yet! The judges for this event are always outstanding and this year's group reflects the diversity of the contest as well as its deep roots in the leather community. Judging this year are: Sarah Humble, the first American Leatherwoman from 1994; Jill Carter, International Ms. Leather 1996 and the head of the Family Hope Alliance; slave ziggy, International slave 2006; Chuck Renslow, founder of International Mr. Leather and the Leather Archives and Museum; Sandy "Mama" Reinhardt, the leader of Mama's Family; Vick Germany from the San Francisco Women's Motorcycle Contingent - more fondly known as the "Dykes on Bikes" and Will Clark, retired porn star and tireless fundraiser and community organizer. A judges' pup, slave pug and tally master Joe Gallagher, IML 1996 will assist the judges and an additional judges' assistant and tally master will be announced soon.

Judging this year's reformatted International Ms Bootblack (IMsBB) competition will be Alex Bettencourt, IMsBB 2006; Cristo, MidAtlantic Bootblack 2003 and Bootdog from the San Francisco Bay Area. The identity of a secret bootblack judge is to be revealed at the end of the bootblack competition. In addition to the IMsL & IMsBB contests, the weekend package is brimming with activities, including more than 30 educational classes and 14 hospitality receptions (including a `Boots and Cigars' party Saturday night). The nearly 7,000 square feet of Play Space will be rocking 24/7 throughout the entire event and will feature a Bondage Lounge designed by Midori. A Vendor Mart featuring a dozen of the scene's most exciting entrepreneurs will be open throughout the weekend.

You don't want to miss this ride. Register now at www.imsl.org where you can find out more details about the event schedule and information on the fabulous host hotel. __._,_.___

BOOTS AND BREECHES

Back in Palm Springs area, the Palm Springs Division of the Boots and Breeches Corps continues to grow. The group has a beer bust at The Barracks on the Fourth Friday of each month. Last month, on Jan 26 they presented a uniform contest with appropriate prizes, with our Mr. Palm Springs Leather Eric Mitchell pinch hitting and stepping in as MC for the ailing Mr. Barracks Rob Hathaway. Thanks, Eric. They'll be doing this again shortly so get out your stuff and show up and compete! On the third Thursday of each month the Division gets together for a brief meeting and a social evening, usually a pot-luck at the house of one of the members. For those interested in this group (there are three Divisions – Palm Springs, L.A and San Francisco). Visit the web site at http://www.bbcorps.com.

You can also check out www.thebarracksbarps.com and www.toolshed-ps.com for what's going on any night in town at our leather bars. Apart from the usual bar nights (beer busts on Friday nights by PSLOD and other organizations) the Tool Shed also has special events. Dennis Cramer presents the Fifth Annual Erotic Art Expo there from Monday February 12, 2007 through Sunday February 19, 2007. Erotic works from local artists will be on display all week and available for silent auction bidding. Proceeds from the event benefit Tool Shed's AIDS Assistance Program Christmas Stocking Fund.

Several of the participating artists will be on hand for a Meet & Greet on Saturday February 17th from 3 pm until 6 pm. Many of the artists will also have additional pieces of their work available for viewing and purchase.

The Tool Shed also features a weekend back lot party and vendor fair on Memorial Day weekend – always a great event with lots of hot men. Interested in being a vendor? Drop them an e-mail to

webmaster@toolshed-ps.com

DESIRE

Announces Its 2007 Leatherwomen's Weekend In The Desert.

Registration now open!

DESIRE

will be returning to Palms Springs for its 3rd annual Leather women's weekend from Friday June 15th, 2007 to Sunday June 17th, 2007.

DESIRE

is a weekend for women who love BDSM and/or sex! It is the perfect get away for those whose experience range from curious beginner to advanced enthusiast. The retreat is open to butches, femmes, lesbians, straights and everybody in between. The weekend will be filled with workshops by well-known and well-respected presenters from all over the country. The keynote speaker will once again be the fabulous Midori.
Presentations will include topics which you cannot find anywhere else. They will include: art of the tease, branding, blood play, under water bondage.
Participants will be able to learn hands-on, one-on-one from these community experts

DESIRE will be taking over the whole resort. There will be plenty of opportunity to soak in the blazing desert sun, surrounded by hot kinky women or relax in the pool under the shade of the trees at a beautiful Palm Springs resort.
Clothing is completely optional! There will be a well-stocked, outdoor/indoor dungeon available for your perverted pleasures. The play spaces will be open for play day and night. Additionally, three organized play parties will take place outdoors under the stars every evening.
Past participants have described DESIRE as a fantastic place to make friends, explore passions and fulfill fantasies and the event was nominated for a Pantheon of Leather Award. Come join them for a mind-blowing, awe-inspiring weekend in the Desert!
Email Address: information@desireleatherwomen.com
Website URL: www.desireleatherwomen.com

For your pleasure, here's a picture of TC and my partner Henry, which has nothing to do with the above: