Don's Leather Page
Palm Springs Edition
by Don Thompson, Leather Daddy VIII of San Francisco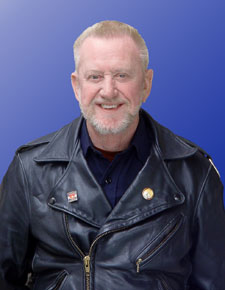 Don Thompson holds the titles of Leather Daddy VIII of San Francisco,
Crown Prince of Leather and Mr Folsom Street Fair.
JULY 2008
SO LONG, HUGH
"Officer" Hugh Wright, a fixture at The Barracks since it opened and for years at previous bars in that location, has finally decided to call it a day. Sunday July 6th was his last beer bust there and it was an emotional farewell for all his regular customers as well as for Hugh. He just loved his job there and his associates there but there comes a time in everyone's life when he has to move on and that time had come for Hugh. But Hugh will still be around, you will probably see him now and again at Streetbar, especially Sunday lunchtimes, and he'll still be available to bartend for private parties but that regular Sunday slog every week had become just too demanding, it seems. And we all have to move on in our lives sometime.
Are you planning ahead for Gay Pride and Leather Pride? Turning up the Heat 2008, the official name for Leather Pride, begins on November 6 with a Meet and Greet and most of the events are taking place this year at Hotel Zoso, which has become the destination of choice in the Valley recently, with major non-leather events taking place there also. The Wednesday evening show produced by Bella de Ball is always packed and always fun so check that out. A surprising number of leather folk are there (but out of leather, so see if you can recognize them out of their trademark outfits). The weekend package for Turning Up The Heat (early bird special) is $120.00 per person. After August 31st, the price will be $135.00. Ticket reservations can be made online, by phone (760-218-5542) or fax (760-321-4045). The package includes admission to all official events: the Meet & Greet, Formal Leather Cocktails, the Breakfast Get-Together, the Mr. Palm Springs Leather Contest, the Victory Dance and the Closing Party. Full package holders also receive drink discounts at various bars as well as day passes to different resorts, an official Leather Pride 2008 T-Shirt, a dog tag and a collector's pin and free entry to the Street Fair. So now's the time to make your reservations since some events have limits to the number of people who can attend, so don't risk being disappointed.
A word of thanks to all those who turned up for my beverage benefit on the 4th and especially to Terry Darby, Roger Snofsky and Bobby Jordan who sang their hearts out for us. Bobby did an amazing a-capella version of the Star Spangled Banner for the occasion which got prolonged applause. Thanks guys!
LEATHER DADDIES
The tile of Leather Daddy of San Francisco is one of the better known leather titles, and certainly the winners of that title are among the hardest working members of our community. The title was created by the late Alan Selby as a means to raise funds for people with HIV, very soon after the disease began to appear. Alan was instrumental in creating the AIDS Emergency Fund in S.F.and it was designed to help those with HIV pay their rent and cover basic expenses that they could no longer cover because of their illness. This was at a time when people were passing away by the score every week. He devised the Leather Daddy contest, the Leather Daddy's boy contest, the Father's Day beer bust at the SF Eagle, the Fetish and Fantasy Ball and lots of other fund raisers. His first Leather Daddy was chosen in 1982. The twenty sixth was chosen last Friday night in the city by the bay and I had the honor to be invited to be one of the judges, a task I've performed quite a few times now. I was Daddy # 8, or VIII (Alan chose roman numerals for his titleholders) in 1990. What the judges look for is not any particular lifestyle, just an ability and willingness to go out and fundraise, produce and MC events and generally beg for prizes and auction items.
There were only three contestants this year. I have seen as many as six in the past and for the Leather Daddy's boy title many more; one memorable year there were 28 contestants. Imagine that nowadays when it's hard to get even one person to enter some contests. Several times recently a titleholder in some contests had to be appointed, since there were no contestants. I wonder what happened to people's desire to serve the community?
In any event, each of the three contestants had his good points and it was not an easy choice but the judges decided that contestant #3, Ray Middling would be the best choice. Ray has a commanding personality and is a self-described bear and member of the bear community. By the way, another former Leather Daddy, # XIV, is Loren Berthelson, who went on to create the West Coast Rubber contest here in the desert. Still working after twelve years with the title.
COMING UP - Saturday, the 9th, BEAT THE HEAT! PS boys of Leather have their annual bus trip from The Barracks to the L.A. Eagle. Bus departs from the Barracks at 7pm and returns close to 3am.. Food and beverage served on board. Tickets from www.PSbol.com and at The Barracks bar. Last year everyone said they had a blast. Also this weekend, Awesome August, Dale Jag's annual event. For details go to www.awesomeaugust.com.
Several years ago I wrote an article for "Turning Up The Heat," a magazine put out by PSLOD for their annual Leather Pride Weekend. Several people have requested re-print rights and others have asked for it to be put on line so here it is, somewhat "bowdlerized" for the internet.
PHOTOS - for photos that accompany this article, click here.
Notable Events of the Past Year
An Accidental Daddy - Don Thompson's account of how he came to the leather community.
Archive of previously published articles (click here)
BAR GUIDE
Here is a link to a great list of Palm Springs bars (with pictures!) to help you find them if you've not been to one before: http://www.hotman.com/palmsprings/bars.html
http://www.bbcorps.org California Boots and Breeches Corps
www.psbol.com Palm Springs boys of Leather
www.msworldleather.com Ms and Mr World Leather
www.iml2003.com IML 2003 John Pendal's web site
www.snatchsf.com - Snatch, San Francisco's "Thigh-High Leather Empress"
www.scbcf.com - The Southern California Breast Cancer Fund - a project of Henry Jordan's, et. al.
members.shaw.ca/masterg/ - "MasterG" George Cameron's site.
www.sfphoenixuniformclub.com/ - Phoenix Uniform Club of San Francisco.
www.sfleatherandbear.com - a free, non-commercial website serving the Bay Area Leather and Bear Communities.
www.the15association.org The 15 Association - A social & sexual fraternity for gay men into S/M having monthly play parties open to members & guests.
www.mamasfamily.org The Leather Community's own "Mama", Sandy Reinhardt.
www.donnasachet.com Donna Sachet, the "Leather Empress" of San Francisco.
www.theleatherjournal.com National Leather news, views, photos and links.
www.black-rose.com/cuiru.html Cuir Underground is a bi-monthly newspaper for the San Francisco Bay Area pansexual kink communities.
www.twistedimage.com South Bay Leather/SM events and information, authored by Kevin Roche, Mr. South Bay/San Jose Leather.
www.maxonline.org The world's largest organization of professional gay men, some of whom are into leather! Site gives details of events, parties, etc.
www.leatherweb.com The Global Leather Village . This pansexual site contains sub-sections entitled: News, Education, Town Council, Market Place, Calendar, Dungeon/personals, Caverns/fetish.
© 2006 Don Thompson
Web Page Produced by Random Chance for Don Thompson
No part of this Page or the text herein may be reproduced or retransmitted by any means without express permission of its authors.
You are visitor number

Counter provided by http://www.digits.com
Send e-mail to DADDY DON at daddydon@leatherdaddy.org (Advice to boys gladly given)